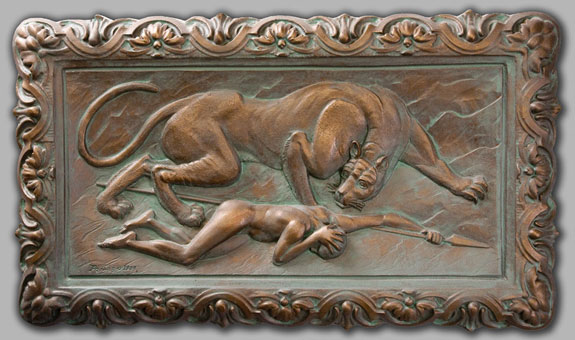 ¨Predator¨

Who is the monster?
26.25¨ x 15.25¨ x 1.5¨

Large predators inspire awe and humble us even in this day and age. Maybe they remind us of our limitations or perhaps they threaten our image as masters of the planet in which we are the predators but rarely the prey. The bold predator has paid dearly by our wrath as we have pushed many of them into extinction. Some researchers say that all free-ranging predators will disappear by 2050. The mythic vision of predators has played an important role in shaping our own species. In contemporary times, we find roles for predators within our emotional universe in movies and our daily news. Picture a future when big predators cease to exist, they recede from memory, and people will hard to imagine what these animals meant to us. At that point, do we replace these big predators as the terrible monsters?
This work is inspired by the painting, "The Sleeping Gypsy" by Henri Rousseau.